Midwifery Electives Abroad
Obstetrics and Gynecology is one of the busiest hospital departments in Kenya and Tanzania. Participants in our midwifery electives abroad will have the opportunity to work with midwives and other healthcare professionals caring for preemies and assisting new parents.
Our international midwifery opportunities are best suited for midwifery students, nurse-midwives, residents, medical volunteers, qualified nurses,s and midwives seeking significant clinical experience abroad and insight into global midwifery practices.
As a midwifery elective student abroad, you will have the opportunity to learn through first-hand hands-on experience about the roles of midwives in high patient inflows and under-resourced hospitals. This opens your eyes to the realities of healthcare in the developing world.
Elective Africa follows AAMC's Guidelines for premed and medical students providing patient care during clinical experiences abroad.
Make an Impact as you Study
Maternal mortality in the developing world is eminent, especially in countries where HIV has taken its toll. According to WHO, Sub-Saharan Africa alone accounted for roughly two-thirds of global maternal deaths in 2017.
As a midwifery student or medical volunteer on a midwife mission trip abroad, you'll gain valuable medical experience by interacting with the impact of poverty and sociocultural traditions on healthcare delivery. You will gain valuable midwifery experience during your midwifery internship abroad.
Participants also get the opportunity to volunteer in our community outreach programs in the locations where we operate.
We believe the new generation of professionally trained midwives could ensure more healthy and safe childbirth and recoveries across the world.
Why Undertake Your Midwifery Electives Abroad?
Nursing and midwifery careers are becoming more competitive every year. Midwife shadowing opportunities overseas give you a unique edge in medical schools and discussing points in job applications. Our programs will not only give you a deeper insight into global health and the inner workings of a hospital but also a unique, memorable adventure.
A chance to progress your midwifery career by working alongside registered doctors and helping with prenatal and postnatal consultancies, births, cesarean sections, and work on neonatal and intensive care (depending on your training/experience).
During the program, be sure to keep a journal and ask as many questions as possible. It is also important to cultivate a good relationship with your mentor. Our staff maintains daily communications with your supervisor to monitor your learning experience.
Participants in our midwife shadowing program abroad get the opportunity to:
Get immersed in a different, unique and adventurous culture.

Build a global professional network.

Shadow and assist healthcare professionals with births

Volunteer to educate the local communities about reproductive health, family planning, infant nutrition, HIV and STD prevention.
You will encounter labor complications like preeclampsia, episiotomies, lack of enough resources to enable patient privacy i.e. multiple mothers in one bed, traditional beliefs and culture surrounding birth. You'll also see the challenges local midwives face each day, and come back to a stronger and more confident midwife.
What do I do in my Free-time During the Midwifery Elective Abroad
After your clinical rotations and shifts, you'll have plenty of time in the evenings and on weekends to explore the country you've chosen to visit.
Surrounded by nature, you'll have every opportunity to go on safari, try national dishes, go camping or mountaineering, take beach walks, boat rides et cetera. Take a look at this Youtube video to see if it is worth the trip.
Enrich Your Midwifery Career With Elective Africa
Elective Africa offers safe and mutually beneficial experiences where students can make a meaningful contribution to disadvantaged populations throughout the world, sample new cultures/ ways of life, and experience different working environments.
An international midwifery program with Elective Africa enables you to:
Gain insight into your professional field.

Interact with diseases and conditions affecting mothers and newborns. Diseases that you might not get to see back home.

Develop a cultural intelligence

and global health mindset from working and empathizing with people from different cultures and backgrounds.

Enhance your soft skills:

teamwork, communication, leadership, resilience, organizing, planning, and time management.

Garner confidence

from challenging yourself outside of your comfort zone.

More

in-depth hospital work experience

than you might get back home.

Hone your clinical skills, personal/professional development, knowledge, and improve your resume

for future job or study applications.
Program Duration of the Midwifery Internship Abroad
Midwifery is all about providing tailored care to meet the mother's physical, emotional, and cultural needs.
Our midwife shadowing opportunities abroad range between 2 to 12 weeks. You can choose when to start and end your trip. Your midwifery elective abroad will be customized depending on your medical school requirements and personal preferences.
During your stay, you will shadow midwives, medical experts, and local doctors. You will be able to learn new skills whilst putting your own to the test.
The clinical experiences abroad will gain you a new global perspective on healthcare, giving you a newfound appreciation of life and birth; helping you learn more about international midwifery practices, and giving you the rare opportunity to travel and live life in a different world.
Midwifery students and midwifery volunteers who spend more time on their programs have the scope to become better integrated over time, gaining increased insight into culture and understanding of international healthcare.
Do you want to come with a group or friends?
You may opt to travel alone and join a group of participants or travel as a group and make memories together.
Elective Africa's hospital internships can be tailored to accommodate groups. You might also have the opportunity to get a group discount if you tag along your friend(s) or classmate(s). For more information on groups, contact our placements advisors at operations@electiveafrica.com or inquire here!
What Is Included in Elective Africa's Medical Internship Abroad
Our aim has always been to provide you with a memorable, adventurous, and hassle-free program.
Discovering a new culture is one of the biggest draws of our placement and we house our volunteers in shared housing to promote organic friendships and easy socializing after hours.
A midwifery elective placement abroad with us includes:
A customized program to your midwifery requirements and clinical interests.
A comprehensive pre-departure guide.
Airport transfers as per different location guidelines.
Designated mentors and support from local staff.
Gated, safe and comfortable houses complete with in-house catering, Wi-Fi access, and support staff.
Biweekly global health tutorials.
Two-way transport to your clinical site.
Basic Swahili lessons twice a week.
Certificate of participation on program completion.
Volunteer activities as per schedule by local staff.
A chance to explore and travel: safaris, excursions, and mountaineering as optional add-on activities.
Inquire for our Midwifery Internship Opportunities Abroad
Elective Africa's midwifery electives abroad are a once-in-a-lifetime opportunity for you to experience a voluntary clinical rotation in a hospital in the developing world.
You will work alongside experienced midwives and healthcare professionals (in one particular area or different departments); shadowing them in their everyday work, asking questions, and hearing more about their experiences. For more information download our midwifery electives in 2023 and Summer 2024 brochure.
Click Here to APPLY and Start your Journey of Joining us for a Valuable Midwifery Internship Abroad!
My Experience; Eye Opening and Formative
Elective Africa provided us with an excellent placement opportunity for Midwifery students with previous experience conducting vaginal deliveries. The nurse-Midwives were supportive and we were able to have a lot of hands-on opportunity. Experiencing the culture of birth in Tanzania was eye-opening and formative, especially coming from a place where labor is feared and epidural rates are very high. I will go home with a new sense of admiration of the strength of women, more confidence with my abilities as a soon-to-be Midwife and with a better understanding of birth in East Africa context. An overall excellent experience with a great mix of clinical learning, traveling and adventure.
Caitlin MacLennanPenman , McMaster University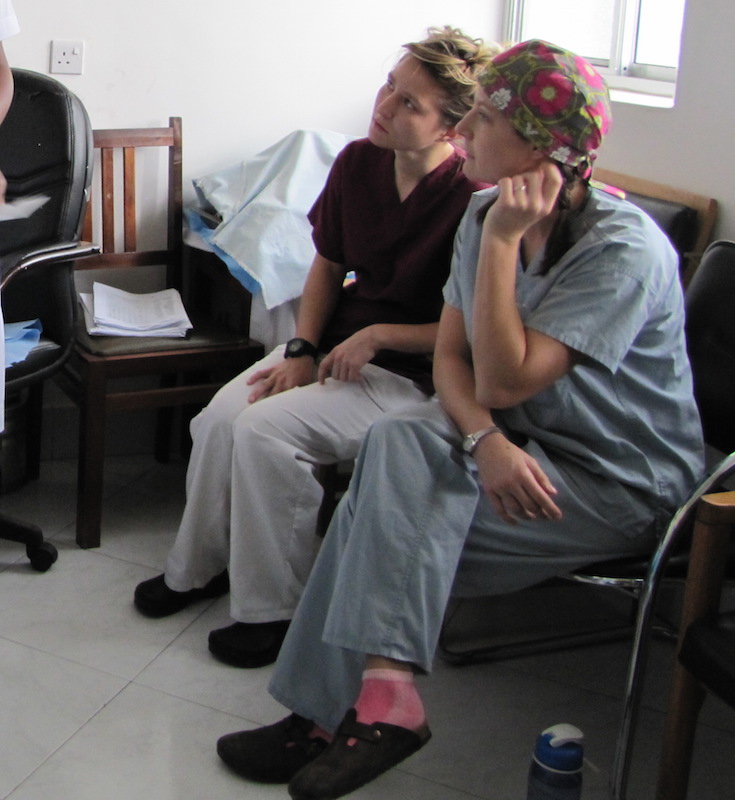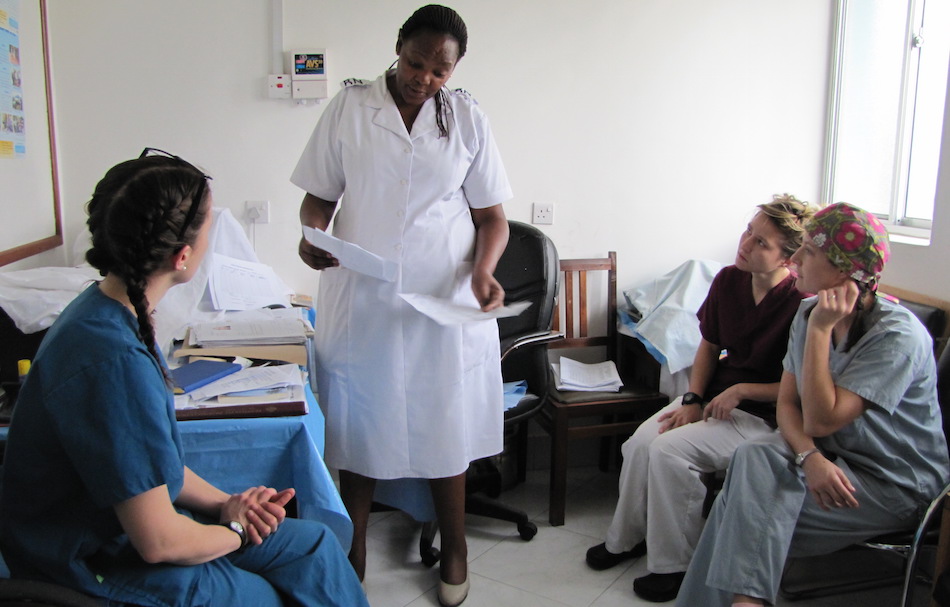 Key Aspects
Key aspects of Midwifery Electives Abroad
Your placement customized
At Elective Africa, we go an extra mile to customize every midwifery elective by working with prospective participants to design their own program and meet school requirements.
Proficient supervision and Mentoring
You will work hand in hand with qualified midwives and mentors at the health facilities of placement to ensure that you experience real life practical and supervised midwifery placement in a unique healthcare setting.
Differentiated Healthcare System
Interacting with extensive prenatal, childbirth and postnatal cases while utilizing limited resources; both human capital and infrastructure is a life-changing opportunity for your professional growth.
Split Placement
We pride ourselves in being one of the few organizations that offer split placements. You can be placed in two different hospitals in the same location, within two different cities or countries to enhance your experience!
Interactive Global Health Tutorials
An opportunity to learn and share on different health care perspectives with other students and local midwives is always rewarding. We organize interactive sessions that provide you with the opportunity to discuss and ask pertinent questions regarding the healthcare system in your placement location as well as share on the distinguishing healthcare characteristics unique to your home country and other places across the globe.
Pricing
Book your Placement
Book your spot today by paying a reservation deposit of $350. This is a one-off fee that allows us to plan for your mentorship, prepare for accommodation, and create your MyElective account and facilitating pre-departure support.
SEE OUR PRICES
Or call us at +1 (609) 375 8912 to learn more.
Destination Focus
Unique healthcare systems, beautiful sceneries, enriched culture and towns that are in developmental stage are what describes our destinations! Choose our exciting locations in Kenya; coastal locations of Mombasa or Malindi, the urban setting in Nairobi; the capital city of Kenya or a rural setting in Migori. In Tanzania we have placements in Moshi and Arusha.
Interested in Travelling with us? Inquire Now!